Virtualised Hosting Services
Prosense Technology's Virtual Hosting Services are based on the Oracle Virtual Machine (OVM) technology platform. The guest operating systems are para-virtualised using drivers that have been developed to increase the performance of the specific guest on the VM server maximising the use of system resources and drastically cutting infrastructure costs.
Oracle fully supports all of their applications and technology products when deployed on the OVM platform and also recognise the hard partitioning strategies offered by OVM when calculating processor-based licensing.
Customers can rest easy knowing that their software investments are hosted in a world-class data center, which can be securely accessed from anywhere using secure VPN channels.
Packages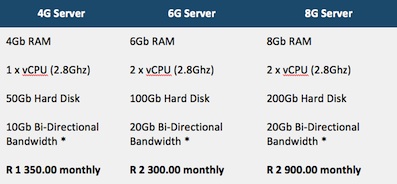 * Bi-Directional bandwidth refers to both the download and upload traffic experienced on the server over the Internet. Bandwidth usage after the assigned cap will be charged at R25.00 per GB. All prices quoted are inclusive of VAT.
Pricing
The Virtual Machine hypervisor provided by Oracle is free of charge, which allows us to price our virtual servers competitively while still delivering the same advanced services that customers have come to expect from the cloud.
Our packaged offerings allow customers to get started quickly with no required setup cost and a simple VAT inclusive monthly pricing model. If the packaged solutions do not meet with the customer's requirements, Prosense Technology will gladly help customise a solution that caters for their needs.
Supported Platforms
Microsoft Windows XP, Vista, 7, 2000, Server 2003, 2008 (32 and 64 Bit)

Oracle Enterprise Linux 4.x, 5.x, 6.x (32 and 64 Bit)

Red Hat Enterprise Linux 4.x, 5.x, 6.x (32 and 64 Bit)

Oracle Solaris 10.x (32 and 64 Bit)